Project: Test of drone highway for medical transport
On December 14-21, a series of test transport flights was carried out by the Polish company Farada and The Polish Air Navigation Services Agency (PANSA). The drone manufactured by Farada was equipped by Aerobits with the TR-1A transceiver.
Flying along a dedicated air corridor and at a maximum speed of up to 90 km / h, the drone delivered medical parcels on average half faster than by road transport. The flights took place on routes between Warsaw and hospitals in Pułtusk, Sochaczew and Otwock. Over a dozen flights of an unmanned vertical take-off plane were carried out on these three routes. A 14 kg drone rises vertically to a height of 50 m, and then, similar to a typical airplane, traverses the route at an altitude of 100 m to 120 m above the ground (AGL).
The unmanned aerial vehicle covered the routes to Pułtusk and Sochaczew with a length of approx. 60 km each, on average in 45 minutes. The flight to Otwock from the center of Warsaw took less than 15 minutes.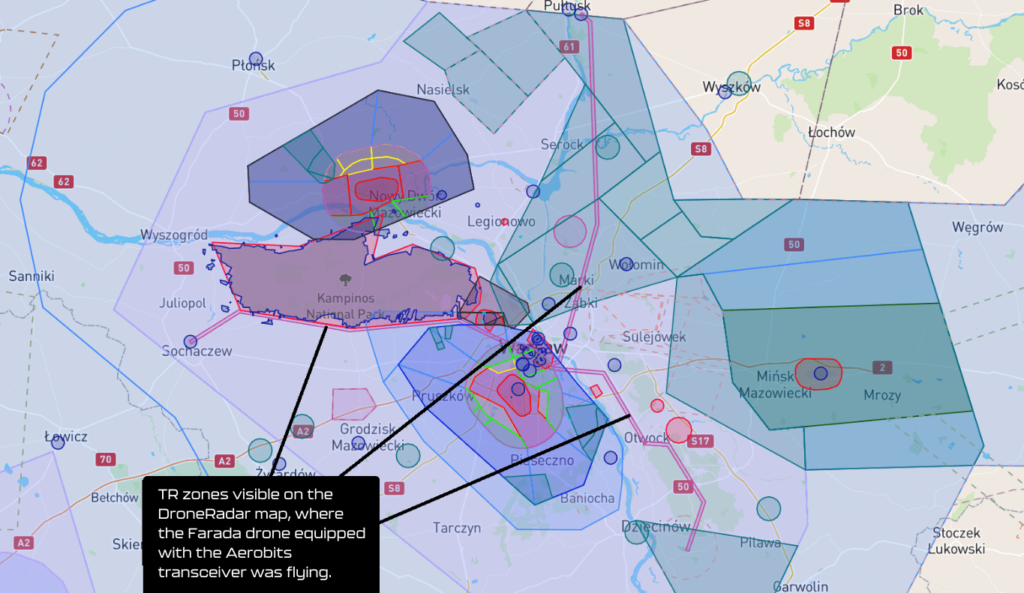 Specification of the system and technology

FARADA is an unmanned system based on a hybrid airframe system with a pusher propeller and four power units in a multi-rotor system. The combination of two types of aircraft enables vertical take-off and landing (VTOL) and fast flight in airplane mode. Depending on the customer's needs, the main drive of the unmanned aerial vehicle is an economical and ecological electric motor or a hybrid combustion-electric engine that allows it to achieve a nationwide range. The Polish Air Navigation Services Agency was very much involved in the project, providing substantive support to the project and taking care of the safety of flights with the use of Farada UAV. PANSA's activities consisted in securing routes with specially designated corridors, ensuring the coordination of individual services and the development of appropriate procedures, which made it possible to ensure the safety of all airspace users.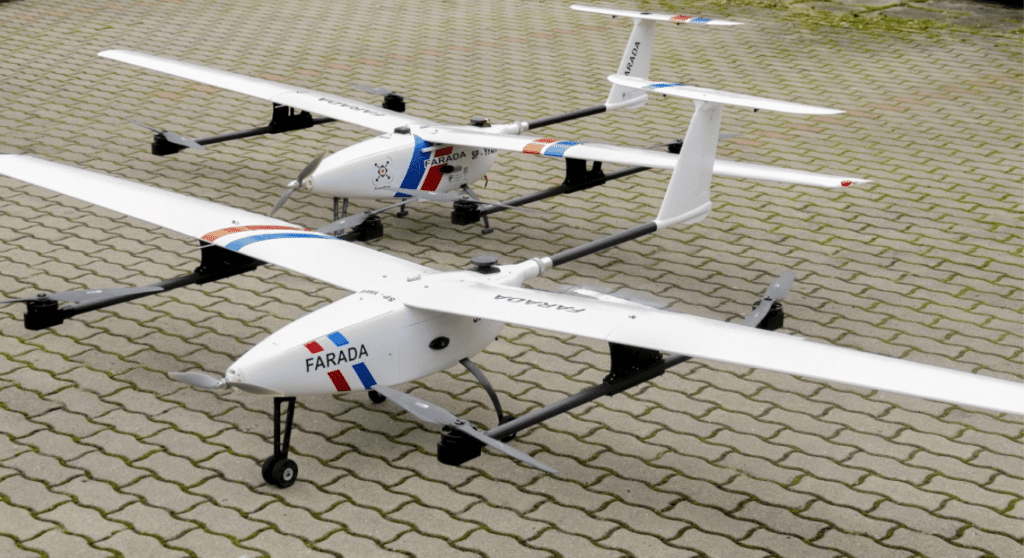 About our product used in project
The Unmanned Aircraft Systems (UAS) used in the project were equipped with the Aerobits transceiver TR-1A. TR-1A belongs to the second generation of the smallest ADS-B transceivers on the market and has been developed for civil and commercial Unmanned Aircraft Systems. The device operates on 1090MHz and allows receiving and transmitting ADS-B data with defined 0.25, 0.5 or 1 Watt output power.
The transceiver does not require external devices to operate. It is equipped with a high-quality multi-GNSS receiver and a pressure sensor. The aluminum housing and ESD protection guarantee high resistance of the device to work in difficult conditions.
TR-1A opens the way to the implementation of the Detect and Avoid algorithms, supporting the integration of UAS into the airspace.