Illustration of the remote ID concept using idME+ on DJI M300 drone
The Mám Dron Association aims to bring together commercial and non-profit entities dealing with unmanned vehicles and operations in Slovakia, and to communicate the topics of the responsible use of drones to the public. In cooperation with the association, we organized several events to present the possibilities of direct remote identification using our external modules.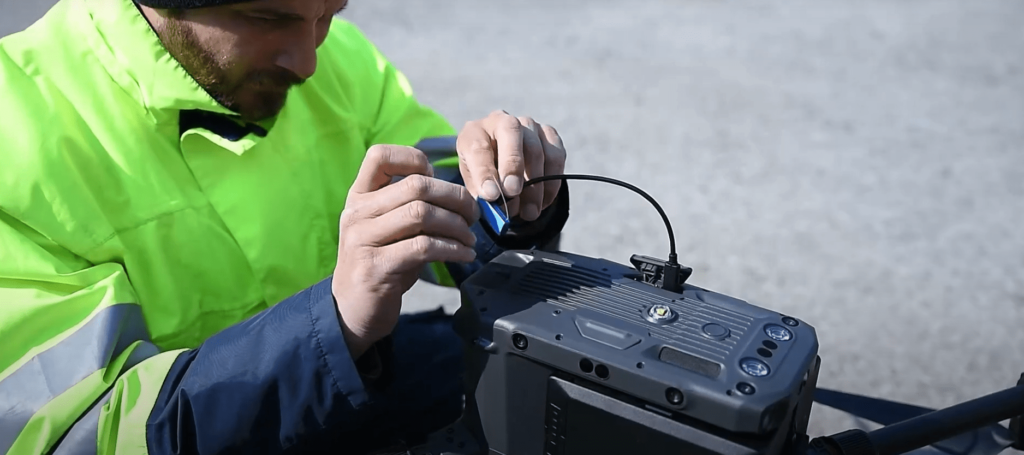 Test flight using the idME +
One of them was a test flight using the idME + module at the "Dáta z Dronu" ("Data from a Drone") event, which took place in March 2022. This three day training was organized by Skymove (a partner of the Mám Dron Association), and  focused on geodetic and cartographic aerial surveys.
During the test flight, which lasted about 25 minutes, the idME + module was attached to the DJI M300 drone. Our colleagues from the Mám Dron Association monitored its real-time movement on a mobile phone and a tablet via the Open Drone ID application. In addition to the exact drone position, we were able to track other data transmitted by the module as well. The purpose of this test flight was to present the module's functionality and to communicate the topic of direct remote identification to the professional and lay public in Slovakia.
Data transmitted from the idME+
The data transmitted from the idME+ module can also be integrated with the MamDron information system (IS), developed and managed by R-SYS, s.r.o. for the Mám Dron Association. The MamDron IS enables to set up and manage drone zones via a web console (authorities) and mobile applications (UAS pilots). These apps are freely available to the public for iOS and Android mobile devices and are currently being actively used by more than 2,600 pilots in Slovakia. The UTM system and registration system for drone operators being currently unavailable within the country, the MamDron application is the only system to assist both professional and hobby UAS pilots in their safe flight planning.