Remote ID - Nothing to Worry About
Aviation is an exciting and dynamic industry. The best evidence of this is the fact that we are ahead in the upcoming evolution of the drone world. New regulations regarding the identification of drones to which drone operators need to adopt have been issued, and they are just around the corner. Fortunately, AEROBITS has already got the solutions for that.

The main mission of AEROBITS is to develop safety in the airspace. Thanks to our products, our Customers can manage and monitor the airspace. AEROBITS has worked on identification technology for many years, having huge know-how and experience in this area. According to FAA division of Remote ID, our products fit in Direct Remote Identification regarding add-on modules and devices, which require from UAS to local broadcast of information about the airborne vehicle, so that this information can be received by other parties locally.

At the moment, AEROBITS fulfils the requirements of ASTM and ASD_STAN for the add-on version of Remote ID modules.
The most significant advantages of AEROBITS Direct Remote ID devices are: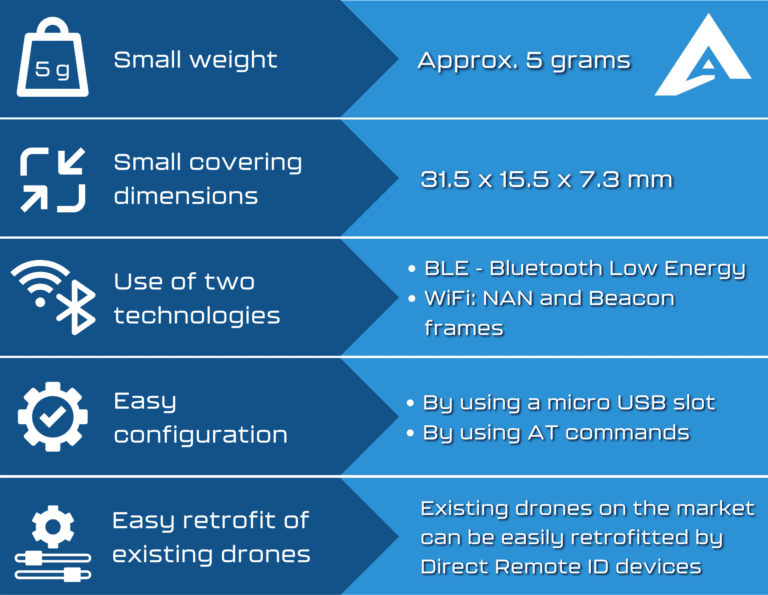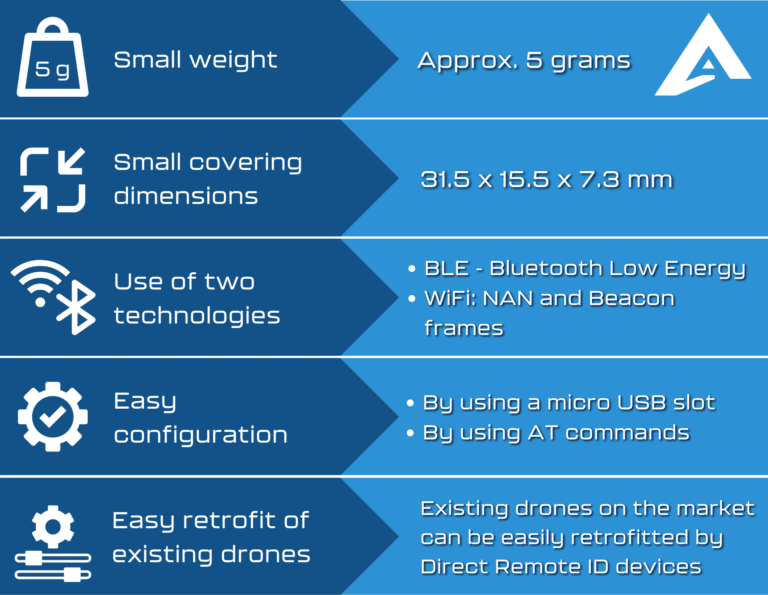 Today, drones are everywhere by increasing airspace congestion and changing the aviation airspace system. That is why the authorities require regulating drone operations. Therefore, the FAA issued new regulations and 16th of September 2023 is the final date for drone operators in the USA to comply with Remote Identification. In general, the main goal of Remote ID is to provide safe and secure airspace and to protect it. Drone pilots need to be responsible for safety and thanks to our solutions – idME family products – they can fly safe with their drones.
Moreover, drone pilots can still enjoy flying their drones while using our idME modules and being sure they comply with Remote ID regulations. Thanks to AEROBITS solutions, it is really very easy to comply with those rules. Drone operators don't need to worry about Remote ID regulations, which are coming, because AEROBITS already has solutions for that.